What are some useful SEO tips to get found online?
"What are some useful SEO tips to get found online?"… so this blog article is about answering that ever important question.  Our team of SEO experts had a long conversation about this topic and we all wanted to thank you for taking a moment to read our thoughts in this blog article. Please enjoy reading these hopefully helpful SEO Tips!
First off, we are going to target Google because simply it is the biggest and most difficult search engine to get ranked on. Others like Bing, DuckDuckGo and so on have different algorithm perimeters,  which seem to us to be easier to rank on.  Therefore, if you read this and follow up on the tips on your website – you should ranked quickly such as Yahoo Search, Duck Duck GO, Bing or etc.
I believe it has been reported that over a trillion people a day go use Google to find something daily.  Which is why businesses and charities are generally talking about how they can be found online on Google. Plus, Google is a search engine that is kind of enough to release the most information to help a business or charity get found based on the its algorithms requirements. So with that being said, these tips (or search engine optimization strategies) that should also help you get found online faster.
Here is our first suggestion – Choose Your Hosting Provider Carefully!
Please understand that, i4 Web Services is not sharing this because we are a reseller of internet hosting services. More importantly, we are telling you to think hard about this because it's true: the hosting provider you pick is vital for SEO. Your website hosting is based on the how you want your server setup for your business or charity. 
Your website server can shared, dedicated, or setup somewhere in between based on your needs. If you want to save money, a shared plan maybe a good option but it could mean your speeds maybe slower simply because you are sharing the hosted server space with hundreds or thousands of other businesses. Unfortunately, you can't control how they act online or what level of activity they are doing either.  This will effect your ability to found online believe or not. 
Since Google takes speed into account when ranking sites, a good hosting provider can help push you closer to the top of the Search Engine (i.e. SERP or Search Engine Results Pages).
i4 Web Services answers: What are some useful SEO tips to get found online?
A good hosting company will also handle server issues. Server issues can affect the amount of downtime your website experiences. 99% uptime is normal because 1% of the time is based on maintenance of the hosting company and/or dealing with a server failure. But don't be afraid, most reputable hosting services backup all the files on servers just in case this happens.
Some companies will charge an extra fee for daily backups while others may not. Either way, servers are setup all over the world, which takes care of natural disasters to one specific area. So, your website will be up even if your main server is located in a disaster area.  Why? Because these servers communicate and replicate your website information but the physical distance between servers will slow down your website speed. 
So it is a positive to have servers around the globe providing backups and hosting for  visitors in the region of the world. But let's say you sign up with a hosting company only a few servers globally or nationally for that matter, well this can effect your speed which can possibly negatively effect your page rank.
Also, most hosting companies these days offer an standard SSL for your website(s) but a better quality SSL will cost additional money. Based on your industry and the requirement of your management team this could be really an important investment.  But if you are part of industry that isn't highly regulated then that basic  SSL that might be free of charge works. Therefore, Google based on it algorithm requirements gives HTTPS websites a small boost. A boost that is small in nature may not sound exciting, but if moves you up a spot past a competitor – then it is worth it. 
If you haven't created your website yet, you'll want to choose a hosting reseller that's reliable and has a reputation for excellent performance. Numerous YouTube influencers are giving reviews on which are good and which are bad and why. Even for an existing site, you may want to consider switching hosts if your current provider doesn't meet Google's latest algorithm updated criteria.
Do you have a WordPress Website?  i4 Web Services wants to make a recommendation is to invest in a WordPress-specific hosting plan. Our fully-managed WordPress plans provide impressive speeds and little to no downtime. Plus we communicate with you regularly to stay on top of your business or charity current website needs.
Here is our second suggestion – Pick a WordPress Theme That is Optimized for Search Engines.  
If you going to use WordPress for your business or charity online web presence.  We certainly recommend that you use a good WordPress Theme. Your website theme is one of the most important choices you'll make for your WordPress site believe or not! 
A well built theme can ensure a good start to your web project's success.  There are numerous theme builders to consider such as Divi, Elementor, Beaver Builder, Woo commerce, Envato, and/or just using Gutenberg just to name a few to consider. 
Selecting a theme helps to determine your site's appearance and layout. Further it can provide new functionality and also plays a role in its SEO too. But most importantly, it can and will strongly build your company's brand online.

i4 Web Services answers: What are some useful SEO tips to get found online?
Did you know, no two theme are built the same, thus your WordPress website theme can affect your website's speed. Theme developers build it to achieve the needs of a specific end user. Therefore, if you need a Real Estate theme vs. an Online E-Commerce Store vs. a News Website, each are built with coding to support the desired end result.
Think of it this way, the theme was developed with clean code or more bulky code depending on the desired usage of the website.  Some themes have such minimal code quickly rank high because they are so fast and lightweight with code. Normally these would be blog website which are informational in there nature. While other websites can be slower based on the them plugins and how the code needed to be written for it to function correctly. But, this is when a good theme choice matters most because if you can select a theme which just a bit better made it can give your site the best chance to rank higher on popular search engines.
Therefore, when picking your website's WordPress theme you'll want to opt for one built with search engine optimization in mind. You would think all websites would be built with this in mind, but that is not the truth.  Some website owners don't want to be found and they just want their clients to secretly login. While others were developed for such a niche audience that there isn't much competition to worry about doing a lot of SEO prep work. 
Now, good news many theme developers are continuously working on addressing making their theme more competitive and built with SEO in mind. Because the truth of the matter, more times than not, your industry is competitive – locally, nationally, and internationally. These WordPress themes are often referred to as 'SEO-friendly'; 'SEO Ready'; or some term that an SEO guru thinks is catchy.
You may also want to look for a WordPress theme that offers features specifically designed to improve your SEO score and ranking online. These days getting heading tag options comes standard in most themes.  Lastly, you want a theme that is mobile responsive and/or mobile friendly in it's nature.
Well, if you liked this article – let me know on Facebook at i4 Web Services.  We want to know what you want to understand in the SEO industry. And to say there is a lot to know about Search Engine Optimization is truly an understatement.
Meet Ed Pisani Jr – Owner of i4 Web Services
Thanks for visiting us today! I hope you enjoyed reading the blog article about  What are some useful SEO tips to get found online? My experience comes from years working in the marketing industry from the Boy Scouts where I was marketing the Scouting programs in the community to owning my businesses and promoting my clients to the community.  All of this marketing and advertising work was to increase the visibility of myself and my clients to get more sales.
With that being said, as a veteran of print marketing,  web design / search engine marketing and advertising – I am a dedicated professional with decades of experience. I am excited to help you grow your brand.
From new businesses to established businesses, we treat everyone with respect, fearless honesty, and a quick friendly response time.
I look forward to meeting you soon! – Ed Pisani Jr, Owner of i4 Web Services
P.S. Since customer service is one of my top priorities – feel good knowing that I will strive hard to achieve the results you are looking for.
Read Another Blog Article Now!
What is the right kind of SEO? What is the right kind of SEO? That
Read More »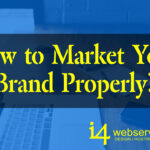 How to Market Your Brand Properly? Discussed by i4 Web Services! How to Market Your
Read More »
What are some ways to improve your website's SEO? blog article by i4 Web Services!
Read More »