What are some ways to improve your website's SEO? blog article by i4 Web Services!
This blog article written by i4 Web Services wants to answer "What are some ways to improve your website's SEO?" and furthermore -How to get more local customers to click on your website in the search? These questions we get asked about regularly and we wanted to answer them for you now. We hope you enjoy reading this blog article and read many of our other ones too.
How To Do and/or improve SEO For your local business?
How many business owners got into a local business because they love to write marketing plans? Not too many. If you gathered 100 local business owners together at a chamber meeting, I bet only less than 10 would raise their hands. Most family-run local businesses, started up because they love what they can do for people. It is all about the passion they bring to the table in the business from a service or a few genuinely unique product lines.
But every small/new business owner needs clients, which means everyone needs to think about getting more hits on their websites. There are many ways to get more views, but one of the easiest is by improving your website's local SEO.
So what is Local SEO & how does it help improve your website's visitor traffic?
First, let us answer  – "What Is Local SEO?". You probably already know this, but we will explain it again anyway. SEO stands for Search Engine Optimization. Search engines such as Bing, Yahoo, Google, and so on use algorithms to gather sites for search results.
Therefore, SEO helps websites craft their page so search engine sites like Google place it higher in the search rankings. If your website ranks higher, or even on the first page, it's more likely that someone will click on it. And that is important to growing your business!
Local SEO is a way to optimize your website for getting face-to-face clients. In essence, it is SEO but targeted to your local area. Thus, improving the odds of getting more in-store visitors and people requesting directions and/or calling you about your business services.
If you want to get more clients around Deltona Florida, or Winter Springs Florida – you don't need to worry about ranking higher on searches in Miami Florida, or Pensacola Florida. Once again the goal is to get visitors nearby your location or service area where you do business.

Here are some quick ways to improve your Local SEO.
So we all want to quickly make things better for ourselves in the online world. This blog is meant to help you dive as deep as you want into learning about SEO, or maybe coming to the conclusion that it might be wiser to hire us (i4 Web Services) but we bet you want something you can do right now and that is okay. Here are a few free things you can do right now to potentially rank higher on search results.
Claim Your Google Business Listing
That's right, we said it. Did you know, that is the number thing we recommend to our clients? It is true, Google gets a ton of searches every day! Therefore, it would be wise to start there.
Did you know, that Google tries to maintain a list of businesses and their locations? Yes, they do it on their map, search, and on Google My Business. But, unfortunately, not every business gets claimed. This means, if that is your business, you could be missing phone calls, direction requests, and most importantly positive reviews.
You may even be using Google maps to find something near you for yourself. Why don't you capitalize on this and do it for your business as well? Obviously, you know how this works because you are using it. If you don't give us a call and we can help set it up for you. It helps people see where businesses are and how to contact them.
When you claim your business listing, first update your location information which will include:
contact information – phone number/email
turn on Messaging to engage with clients faster
add your website URL
add the hours you are open
add a brief overview description of your business
add your logo
add in-store location pictures
add some photos to show that your business is active with local customers.
By doing this, it increases your business/brand searchability online. So, when a potential client searches, "your business's service near me," or "your business's product name" you want the customer to see your business and to know that you have confidence in what you do.

Consistent Contact Information Formatting – Thanks for reading the "What are some ways to improve your website's SEO?" blog article!
Did you know that your website should have your contact information? It is true, your website needs to have your business name, address, phone number, and email on every very single page and blog post of your website.
That is right – literally every single page and blog post. Why? If a new potential customer pops onto a page on your website without information, you might lose a sale. Most local small business websites keep their full information at the bottom, called a footer, of every page. 
Example: We use this format at the bottom of every page we build-out for our clients.
Business Name
Business Address
Business Toll-Free Number
Business Phone Number
Business Fax Number
Business Email
Business Website
You also want to keep the formatting consistent, which is pretty easy to do with most footers on website builder software. But, if you don't have access to better quality site builder software such as WordPress, then you will need to consider using the exact same order and format for every page you have your contact information.
Lastly, double-check your information for any misspellings or wrong numbers. You don't want to frustrate your potential customers with wrong address info or a number that does not work. Maybe you will get lucky to have someone point it out, but most likely that potential customer will just find a competitor to go shop at.
Encourage Customers to Leave a Review
Google and other search engine listings have review features. A 5-star review on Google is like 'gold' because it uses the star ranking to determine how you should rank compared to other local businesses similar to your own small business.
Google always prefers good ratings over bad ones. A bad rating on Google would a 1-star rating. Did you know that Google creates an average for your overall star rating? Yes, it does. If your local business got 3 – 5 star reviews and 2 – 3 star reviews. Your online rating would be 4.2 stars. The more reviews your business gets the higher or lower the star rating will be. 
Also, the content message associated with that star rating is also available for people to read as well.  The more positive reviews you have, the higher you'll rank on searches. Upset clients are more motivated to leave a bad review, so you need to actively ask happy clients to leave positive reviews.
Either way, respond to every review, especially negative ones. Did you that responding to all reviews shows potential clients that you care about your interactions with every customer. Google looks at this behavior and knows that you are legit.
If and when you get a negative review, respond with an offer to make things right with the client. If one of your employees made a mistake, share with them your appreciation for hearing about this, and that you will re-train the employees accordingly. Potential customers will see how you manage your customer service. Never, ever respond in anger. It will drive customers away.
We recommend that you invite the upset customer back to give you another try. Let them know their feedback is valued. In some cases, we have found that negative reviews were given for the wrong business entirely. In that case, we recommend that you let the negative reviewer know that your business does not do that service or sell that product, and/or is not located where they have mentioned. 
Recently, one of my restaurant web clients had this happen. They are a very popular Greek restaurant. They serve Greek food.  The negative review was very upset about the 'Chinese Food' he had eaten. Ironically, the two restaurants are local on the same street in the downtown area.
We quickly recommended that they inform the reviewer that they were a Greek Food restaurant only and maybe he was confused about the restaurant name.  Further, we also mentioned they should ask Google to review that particular review to see if they could remove it. 
Create A Call To Action (CTA) – Thanks for continuing to read the "What are some ways to improve your website's SEO?" blog article!
Having a call to action is a smart idea for a local business. We always suggest adding a call to action (CTA) on every page. Your business's call to action drives your customers to the right page to buy your services. Also, it can help drive phone calls from them as well.
Here is a few examples to consider using on your website pages:
"Check out our website for quality example products for all your needs."
"Call us today to schedule an appointment."
"RSVP your dinner reservation date and time now."
"Order your lunch with online ordering – click here to get started."
So we hope that this blog article was helpful. Further, we did enjoy writing it for you. If you need help with building:
a positive web presence for a local business website,
a mobile-friendly business website,
a responsive web design for your organization,
a responsive charity website,
an online marketing campaign,
a social media presence,
a small business website,
a startup business web design,
or a growing established business website, 
We can help you – just give us a call at 407-416-1515. We care about increasing your Web Presence with a total plan that works – i4 Web Services will help you increase your web presence with a custom-made online presence growth strategy! Again – thanks for reading the "What are some ways to improve your website's SEO?" blog article.
Read Another Blog Article Now!
Why SEO and PPC are important for any business. Another great article by i4 Web
Read More »
Why not consider using WordPress. Why not consider using WordPress – that is what we
Read More »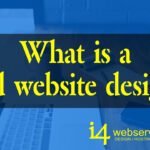 What is a bad website design? What is a bad website design? So today the
Read More »